Buffillo Nozzle Hand Dryer
FREE Delivery on this item!
Economy meter

1714 dries per £1

kW
How is our ECO meter calculated?
We base all figures on a 10 second dry time
We calculate the cost per hour
Avg kW x Price per kWh
We calculate the cost per cycle
Number of dries possible in one hour (360) / the cost per hour
We calculate the total dries per £1
£1 / The cost per 10 sec cycle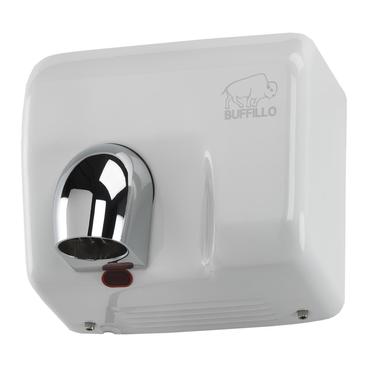 enlarge
Watch the video below to find out more...
FREE Delivery on this item!
10 -13 second hand drying: Rotating wide air nosel
Traditional styling: modern technology
Finest Cast Aluminium: 304 Stainless Steel nosel
Automatic operation
Available in polished chrome or white enamel powder coat finish


The Bufillo Hand Dryer fits in with our surroundings and gives us no problems whatsoever. Rest assured we will continue to purchase more as we replace our older hand dryers about the college.
Anna Eleftheriades, Cheltenham Ladies College
Multi Buys Buy 3+ £194.74 per item (Ex. VAT)
Buy 5+ £184.49 per item (Ex. VAT)
Buy 10+ £179.37 per item (Ex. VAT)
Next Business Day Delivery £10 regardless of quantity
Order before 2pm
Product Info
Tech Spec
Downloads
The Buffillo. Traditional styling, advanced technology

A twist on a classic

This dryer incorporates the best of original and new technology.

Like many traditional dryers you'll have seen, the Buffillo comes with a rotating exterior nozzle, enabling hands, faces, hair or clothes to be dried safely and easily. This makes it the ideal investment for leisure facilities such as gyms, swimming pools and sports centres, where damp hair and wet kit abound.

But the Buffillo's classic looks are deceiving. This dryer is packed with advanced technology, giving it the edge over any traditional model on the market.

Wide and dried

Quick-drying, the Buffillo's superbly powerful motor pushes warm air through the wide-mouthed nozzle, blasting a tunnel of heated air at high speed wherever the user needs it.

Supremely efficient, the Buffillo is capable of drying wet hands in under 12 seconds. This makes it the perfect unit for washrooms in historic and public buildings, where speed, strength and a neutral aesthetic are desirable.

Operated automatically, we've done away with old fashioned push-button components which could be frustrating and costly to repair – that's one less thing to worry about fixing.

A polished performer

Encased in the finest cast aluminium, this hand dryer is a dream to clean and repels contaminated water easily.

Taking the brunt of the dirty work, the adjustable nozzle is made from corrosion-resistant 304 stainless steel, enabling it to withstand steamy changing room settings and daily contact with wet hands.

Great for disabled bathrooms

The Buffillo's rotating air nozzle and motion sensor technology enable users with varying levels of mobility to dry themselves effectively, making this a fully compliant and effective addition to disabled washroom facilities.

Our two-year warranty

This hand dryer comes with our seal of quality approval and a two-year warranty, including free parts and labour should you need it repaired within the first year of purchase.

Operating Power

220-240 V, 50/60 Hz, 2.3KW

Warm Air Speed Output

30 m/S wide nosel

Air Output Temperature

40°C - Where Ambient Temp. below 24°

Motor Type

1300W, Brush Type, Dual Ball Bearings

Motor Overload protection

Motor assembly designed with over current fuse, replaceable.

Heater Thermal Protection

Auto Resetting Thermostat turns unit off at 114°C ;
Thermal fuse cut unit off at 121°C

Drying Time

Less 12 seconds

Circuit Operation

Infrared Automatic, self adjusting

Sensor Range

Standard 120mm +/- 3mm

Product Depth

160 mm (210 including nosel)

Warranty

2 Years (1st Year Parts + Labour)

Noise Level (at 1m)

79 Decibels
You May Be Interested In: