Sterillo Uno Air Steriliser
FREE Delivery on this item!
FREE Delivery on this item!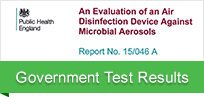 Kills germs and virus' in the air
Odour control: 28 day money back guarantee
The Dorchester Hotel (London): Sterillos' made "a huge difference to the atmosphere"
Hix Restaurants said their Sterillo's "heightened clean smell and sanitisation"
Latest ECO features: Costs under Ģ7.00 per year in electricity to run!


We have had feedback from upper management of the company and restaurant guests of the heightened clean smell and sanitation.
Adrian Tyler, Area Purchasing Manager
Multi Buys Buy 3+ £194.74 per item (Ex. VAT)
Buy 5+ £184.49 per item (Ex. VAT)
Buy 10+ £179.37 per item (Ex. VAT)
Next Business Day Delivery Ģ10 regardless of quantity
Order before 2pm
The Sterillo Uno Air Steriliser. Proven to kill COVID-19.

The Sterillo Uno Air Steriliser is proven to kill germs lingering in the air, as well as odour-control. It is perfect for any environment where nasty bacteria, virus' or mould need to be controlled including washrooms, pubs, restaurants, hotels, schools, offices, or changing rooms. In fact, anywhere air sanitation is needed. Using proven room sanitising technology, the Sterillo Uno silently kills germs and harmful bacteria in the air, eradicating nasty smells and malodours in the process. Gone are any sorts of germs, causes of mould build-up and bacteria that can be transmitted in the air. You can have a highly sterilised, pleasant smelling room that's a pleasure to use - rather than an experience people can suffer through.

Does the Sterillo UNO kill viruses?

In laboratory tests carried out by PHE (Public Health England)*, the Sterillo removed over 99% of one of the germs tested. The full test report is available to download. The Sterillo concept is truly innovative and unique thanks to patented technology and affords you a clean space with germs and bacteria gone.

Does The Sterillo Really Destroy Germs? Ask our customers:

Dorchester Hotel, Park Lane, London said the Sterillo had "made a huge difference to the atmosphere, there are now no unpleasant odours at all."

HIX Restaurants said "feedback from both upper management of the company, and restaurant guests of the heightened clean smell and sanitisation."

The Kennet Shopping Centre in Newbury said their Sterillos had "definitely helped with reducing the unpleasant odours that are often associated with frequently used public toilets."

Handy Dryers we the UK's official retailer of the Sterillo. This fantastic technology is presented in medical grade 304 Stainless Steel three different high quality finishes: black, stainless steel and white, meaning that not only will the Sterillo improve the smell of spaces, but also provide a stylish and professional addition to your room - whether than be your office, school, hotel, restaurant, washroom or anywhere else.

The Sterillo Uno is available in 4 different sizes: the Sterillo 5, 10, 20 and 30, suitable for washroom sizes of 5M, 10M, 20M and 30M respectively.

How does the Sterillo work?

The Sterillo hand dryer and UNO use long established technologies that can destroy airborne germs, mould and viruses - removing most washroom odours whilst sanitising your designated area. Ultraviolet Germicidal Irradiation (UVGI) is a sterilisation method that uses UV light at sufficiently short wavelengths to break down micro-organisms by removing their reproductive capabilities and effectively destroying them.

*Independent tests conducted by PHE