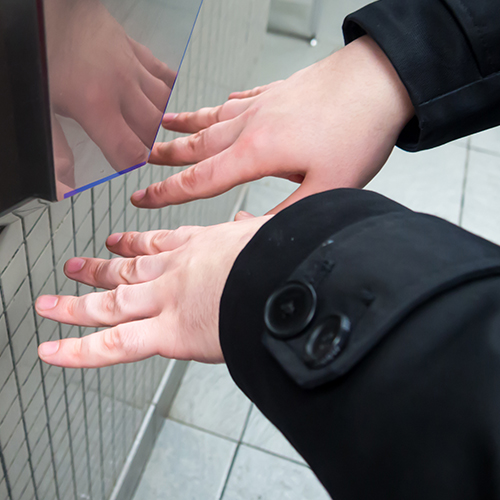 Hand Dryers in Schools, Universities, Colleges and Hospitals
The sad fact of life to date has been the very poor performance of the lowly Hand Dryer. So many kids wander across to the lone hand dryer at the corner of the washroom without any faith in actually having their hands dried. It takes too long and there is a queue behind them which means they either brush their hands down their trousers or grab a paper towel to finish the drying.
This has left many schools and colleges in a quandary when deciding the best method of hand drying in their restrooms and because of their history there has been an element of reluctance to commit to a changeover.
Handy Dryer Facts and Fables
So let us look at some of the facts and fables surrounding the Hand Dryer market place.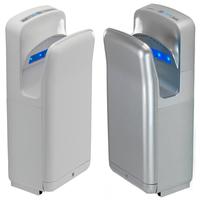 It is proven without doubt using hand dryers as opposed to paper towels is both massively cost effective and kinder to the environment which is why so many public establishments such as schools, colleges, universities and hospitals are now installing ECO hand dryers in washrooms across the country. In the last two years there has been a significant revolution in the hand dryer sector with manufacturers producing sterling products that actually do dry hands. The 'hands in' blade revolution has begun to change the concept of the once ineffective hand dryer and catapulted it into the 21st century. High speed dryers no longer evaporate water but blow jets of air effectively pushing the water off your hands rather than just blowing them dry.
Handy Dryers - Gorillo (right) is a popular choice when selecting a blade machine. It has its own special drawer to capture excess water and a bacteria resistant coating to protect the exterior. The Dyson Airblade has no such attributes and simply blows excess water down its own sides to drip onto the floor.
Budgets, running costs and environmental issues are huge factors for many schools, universities and colleges when considering the purchase of hand dryers, so choosing a hand dryer that runs quickly, quietly and efficiently is essential. With the plethora of options available on the market it would seem reasonable to opt for the cheapest hand dryer; budget constraints in schools and colleges can make this path appear more appealing and even necessary, but as with so many things buying cheaper products can mean buying twice, or finding the hand dryer is slow, noisy and ineffectual. It is better to research the hand dryer market and look for products made specifically for high use environments. The warranty can often offer an insight into the quality of the hand dryer as well as the company you are purchasing from.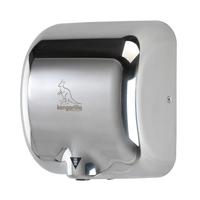 Another area of consideration is that of sustainability and durability. Modern hand dryers have a far lower carbon footprint than their earlier contemporaries and simple mechanisms mean they reliable and easy to use; parts can eventually be broken down and recycled without a trace. During its life the hand dryer can expect to experience a high amount of use, and is constructed to do so.

One area that has been noted in previous reports is how vandalism in washrooms in schools and colleges across the UK has decreased with the onset of the hand dryer. Paper towels and dispensers were commonly pulled from walls and discarded; the hand dryer with its electrical components seems to have discouraged this open lack of disrespect and in turn has created a cleaner and calmer washroom setting.
Handy Dryers - Kangarillo (left) High speed Stainless Steel unit proving popular with schools, colleges and Universities across the country