Gorillo Blade Hand Dryer
FREE Delivery on this item!
Economy meter

4000 dries per £1

kW
1714 dries per £1

kW
How is our ECO meter calculated?
We base all figures on a 10 second dry time
We calculate the cost per hour
Avg kW x Price per kWh
We calculate the cost per cycle
Number of dries possible in one hour (360) / the cost per hour
We calculate the total dries per £1
£1 / The cost per 10 sec cycle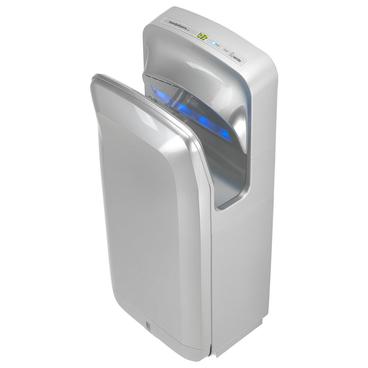 enlarge
Watch the video below to find out more...
FREE Delivery on this item!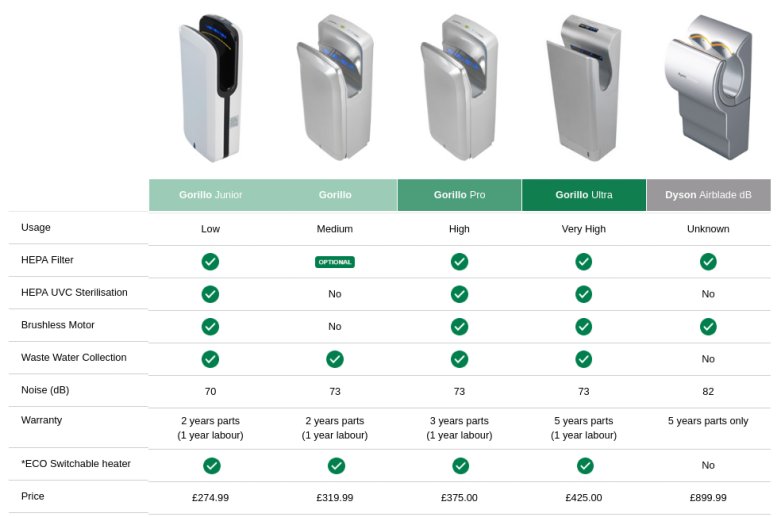 Gorillo Comparison Chart
HEPA Filter: (Available as an optional extra)
Digital display of room temperature: 7 - 10 second dry time
Great looks with waste water collection: no more wet floors
Lowest noise output in sector: Only 70dB
Room Temperature Display: Auto adjusting air heater


We are using Gorillo and Vulcan dryers within our university and have found them to be a reliable and well-priced alternative to the well-known brand, blade dryer. Handy Dryers are very user friendly to deal with and deliver next day.
John Gowing, Royal Academy Of Music
Multi Buys Buy 3+ £304.00 per item (Ex. VAT)
Buy 5+ £288.00 per item (Ex. VAT)
Buy 10+ £280.00 per item (Ex. VAT)
Next Business Day Delivery £10 regardless of quantity
Order before 2pm
Product Info
Tech Spec
Downloads
The Gorillo. Our quietest blade.

One of the quietest blade hand dryers in the world

Boasting our extra quiet accreditation, our Gorillo blade dryer puts out as little as 72dB of noise. That's about the same noise level as the music you might play in your living room.

With an auto shut-off time of 30 seconds, it's been specifically designed to keep air bursts to an absolute minimum.

Astonishingly affordable...

An incredibly popular choice for high-traffic washroom facilities and large building complexes, our Gorillo hand dryer is energy efficient and will save you money.

In fact, it costs less than 0.02p per use. That's around £9.00 per year, compared to an average of £70.00 for standard hand dryers.

No jungles – but it is green...

Using 85 to 90% less energy than older, more conventional machines, the Gorillo's high-speed vacuum motor saves energy by using only 650W of power at a time. That's a whopping 1,750W less than a conventional hand dryer.

Undeniably eco-friendly, the shorter drying time combined with its dramatically lower power consumption saves money while massively reducing your facility's carbon footprint.

A clean creature

As well as being stylish, hygiene is prioritised by this quiet hand dryer thanks to the speedy 'hands in' airflow system. This scrapes moisture from both sides of the hands in a matter of seconds, thereby minimising residual water droplets that can carry harmful germs.

Also – unlike many standard hand dryers, the Gorillo collects hazardous waste water ready to be disposed of later.

No water on the floor, no slip hazard and no mess – it will save you time and help you keep the washroom clean and ultra hygienic.

It senses you

Gorillo blade dryer technology is remarkably different. It features double the usual number of infrared sensors, meaning it can detect hands from different directions simultaneously.

While conventional dryers can cut out or fail to respond, the Gorillo is laser-accurate. It will detect hands every time.

With speed adjustment, power and heat on/off switches, this is an affordable blade dryer that adapts to your every need.

Our two-year warranty

This hand dryer comes with our seal of quality approval and a two-year warranty, including free parts and labour should you need it repaired within the first year of purchase.

Noise Output

70 dB(A) at 1 Meter

Operating Voltage

220-240 Vac, 50/60 Hz, 1.3-1.6 KW

Warm Air Speed Output

90 m/s

Air Output Temperature

113°F (45°C) - Ambient Temp. 68°F (20°C)

Motor Type

750W, Brushless Motor

Motor Thermal Protection

Auto Resetting Thermostat turns unit off at 105°C {221°F}Switchable

Heater Thermal Protection

Auto Resetting Thermostat turns unit off at 85°C {185°F};
Thermal fuse cut unit off at 142°C {288F}

Circuit Operation

Infrared Automatic, self adjusting

Timing Protection

25 seconds auto shut offShower proof

Net Weight

10.5 kg [23.1 lbs]
You May Be Interested In: