Gorillo Junior Hand Dryer
FREE Delivery on this item!
FREE Delivery on this item!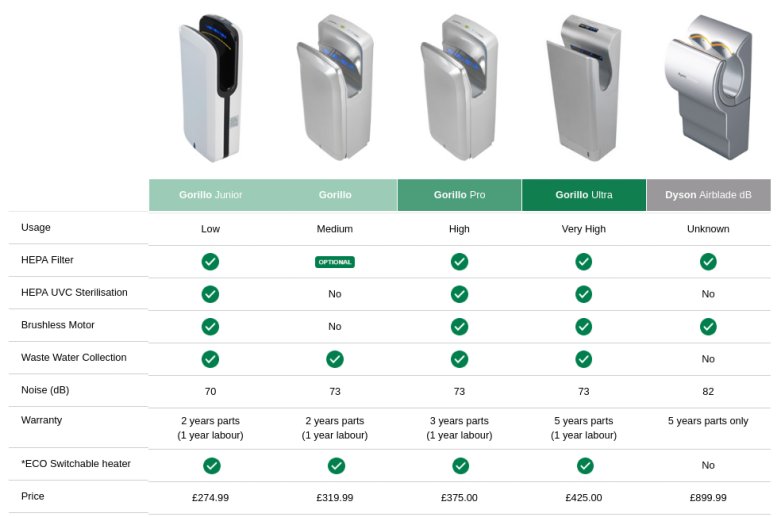 Gorillo Comparison Chart
HEPA Filter with UVC Sterilisation: Cleans the air whilst drying your hands
Small & Compact Design: Still the same quick drying times
In built digital room thermometer: Self Adjusting air heat output

Being a busy food and beverage business the reliability of the services we provide in store are paramount; your blade dryers have proven to exceed our expectations in this respect whilst also being low maintenance.
Jade Colfer-Coleman, Goldex Investments Ltd T/A Costa Coffee
Multi Buys Buy 3+ £251.74 per item (Ex. VAT)
Buy 5+ £238.49 per item (Ex. VAT)
Buy 10+ £231.87 per item (Ex. VAT)
Next Business Day Delivery £10 regardless of quantity
Order before 2pm
Product Info
Tech Spec
Downloads
The Gorillo Junior. Our considerate blade.

Fierce, but budget-friendly

A stunning 30 seconds quicker than standard appliances, the Gorillo Junior dries hands in under 9 seconds. Breezing satisfied customers out of the bathroom in next to no time, this dryer serves to free up washroom space for other users and avoids unsightly queues.

Saving up to 90% of the energy that carbon-guzzling conventional dryers use, the Gorillo Junior's efficient drying time consumes only 650W of power, keeping your electricity bills to a minimum.

With customisable speed and heat switches fitted as standard, the Gorillo Junior puts you in control of your energy usage, enabling you to manage a strict facilities budget more easily.

Cleans while it works

Harnessing the power of germicidal light rays, the Gorillo Junior's integrated UV-C lamps cast a sterilising glow over the hands as it dries them, rendering the majority of bacteria and other harmful organisms harmless.

What's more, the Gorillo Junior's inbuilt HEPA filter catches hazardous germs and particles of human waste that float in the air of even the most carefully cleaned of washrooms, limiting the spread of harmful diseases.

Collects dirty water, with no fuss

Unlike a Dyson, the Gorillo Junior has been designed with a concealed water collection tank, enabling stagnant water to be collected without splashes or spillages.

Keeping germ-infested water locked away, the collection tank can be taken out and emptied easily, leaving the area hygienic and odour-free.

Saves space

Even the smallest washrooms deserve to have the most advanced technology at their disposal, without making any compromises. The Gorillo Junior is our first 'hands-in' blade dryer designed precisely with this in mind.

Sporting a slender, wall-hugging figure, this dryer packs all of the drying power of its big brothers into a neatly compact shell. This makes it perfect for buildings such as schools and universities, where limited space and a heavy daily footfall can stretch the capacity of bathroom facilities to the limit.

It senses you

Gorillo Junior blade dryer technology is remarkably different. It features double the usual number of infrared sensors, meaning it can detect hands from different directions simultaneously.

While conventional dryers can cut out or fail to respond, the Gorillo Junior is laser-accurate. It will detect hands every time.

With speed adjustment, power and heat on/off switches, this is an affordable blade dryer that adapts to your every need.

It looks the part

With a choice three eye-catching colourways, the Gorillo Junior will provide an instant style update to washroom facilities, as well as impeccable drying performance.

Approachable and easy to use for both children and adults, the glowing LED countdown timer and smiley face are as useful as they are attractive, clearly showing people when they can remove their hands and allow others to take their turn.

Our two-year warranty

This hand dryer comes with our seal of quality approval and a two-year warranty, including free parts and labour should you need it repaired within the first year of purchase.

Operating Power

220-240 V, 50/60 Hz

Warm Air Speed Output

100 m/S

Air Output Temperature

40°C - Where Ambient Temp. below 24° - Automatically adjusted

Motor Overload protection

Motor assembly designed with over current fuse, replaceable.

Heater Element

1850W (Heater On)/ 750W (Heater Off)

Heater Thermal Protection

Auto Resetting Thermostat turns unit off at 85°C {185°F};
Thermal fuse cut unit off at 142°C {288F}

Drying Time

Less than 7 - 9s

Circuit Operation

Infrared Automatic, self adjusting

Timing Protection

60 seconds auto shut off

Warranty

2 Years (1st Year Parts + Labour)

Noise Level (at 1m)

70 Decibels