Market research studies show that the sale of hand sanitiser products has skyrocketed by 470% in the first week of March this year (when compared with the same week in 2019) (Huddleston, 2020).
Despite this, very little research exists at present investigating the efficacy of different types of hand sanitisers (wipes, liquid, gel) (Larson, Cohen and Baxter, 2012). Such studies need to take into account user preference, relative removal of viral load and economic factors. With the World Health Organisation (2009) switching to recommend the use of alcohol-based hand sanitisers in place of soap and water, we have seen a major shift in guidelines on hand hygiene. It is important now, in the wake of COVID-19, to understand how best to use of this life-saving product.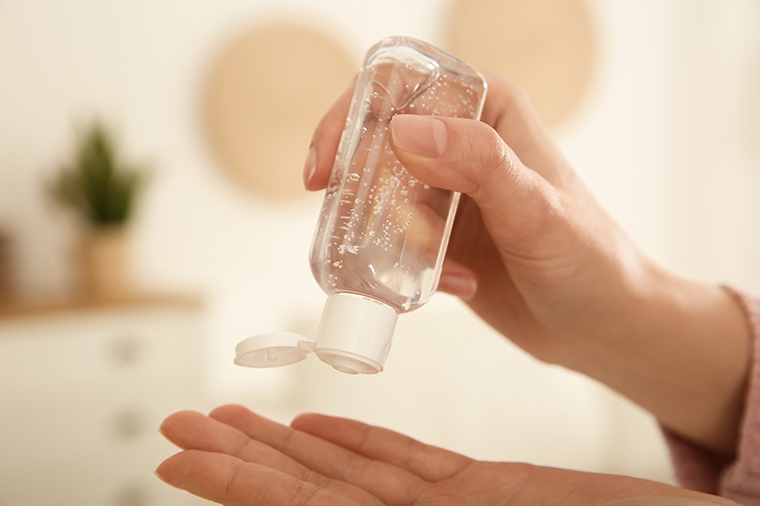 Why hand sanitiser?
So why use sanitiser at all? In fact, the answer may not be what you think. Although sometimes argued that hand rubs are more effective at killing germs, experimental work has shown sanitisers and soap to be very similar in terms of efficiency of removing viral loads - in this case, Influenza (Grayson et al., 2009). If the WHO aren't recommending use of sanitiser for this most obvious reason, we must look at other factors involved in sanitiser use. Possibly, the most important factor here is the compliance rate. Studies have shown that using hand rub instead of soap and water resulted in a sustained improvement in hand hygiene and reduced infection rates (Pittet et al., 2000). This result is likely due to reasons for sanitiser preference over other methods of hand hygiene, such as ease of use, speed, less hand irritation and immediate availability (Rotter, 1999).
Does hand sanitiser kill coronavirus?
Although there are plenty of products on the market right now claiming to be effective against 'all viruses'(Dei Pharmaceuticals, 2020), there is little evidence to support this yet as COVID-19 is a new virus and thus has not been tested extensively. A recent review, however, did set out to investigate this further. Jansen (2020) points out that this novel virus is an enveloped virus which leads us to believe it has a lipid layer protecting the viral core. Typically viruses with this structure are effectively inactivated by most hand sanitising agents. For example, a study found that similarly enveloped viruses (Ebola, Zika, CoV-1) were all killed by two alcohol-based products, showing that these sanitisers can be used effectively as a preventative measure during such viral outbreaks (Siddharta et al., 2017).
How do we test hand sanitiser efficiency?
European protocols to test efficacy of hand-hygiene agents are referred to as the 'European Norms' (1997). EN 1500 is the standard to which gels and washes are tested at with reference to basic disinfectant (2-propanol, 60% volume per volume [v/v]) tested on Escherichia coli K12 (NTCC 10538). This means that any product tested cannot be significantly less effective than the reference disinfectant.
Which is best? gel or liquid sanitiser?
One option we can easily rule out of this debate is that of hand wipes. Use of hand wipes has been shown to have no better effect than that of plain, non-antimicrobial soap and water, and thus the CDC does not recommend use of alcohol impregnated wipes (Butz et al., 1990).Gels are commonly preferred by consumers due to reduced skin irritation and dryness (Rotter, 1999). However, this appears to come at a cost of the gel based products effectiveness at cleaning hands. Kramer et al., (2002) studied sanitiser gel VS rinses (liquid sanitiser) and found gels did not fulfil the above mentioned EN 1500 standard, where rinses did. This shows liquid hand sanitiser is the more effective product in terms of reducing viral or bacterial load on peoples hands. It may be important to also note that the average cost of these products shows gels as consistently more expensive, likely due to the cost of extra chemicals added in order to produce that characteristic gel-like consistency.
How much sanitiser should we be using?
Generally speaking, the average person is using far less sanitiser per hand wash than the manufacturer recommends. Most manufacturers recommend a dosage of 3mL for effective hand disinfection, however market research shows that this is not the dosage typically used by nurses and doctors (Kampf, 2013). This is due to the fact that this volume of liquid takes up to 45 seconds to dry, and the average user deems this too long (Wilkinson et al., 2017) One study showed that when using the recommended amount of sanisitiser gel, liquid or foam, nurses reported that they were unlikely to do so due to the time wasted, stickier hands and difficulty of doing so (Greenaway, Ormandy, Fellows and Hollowood, 2018). In fact, a very recent study found that 86% of people used just a single pump of sanitiser product, regardless of whether the pump was set to dispense 0.75 mL or 1.5 mL (Kenters et al., 2020).
Reference List:
Siddharta A., Pfaender S., Vielle N.J., Dijkman R., Friesland M., Becker B., Yang J., Engelmann M., Todt D., Windisch M.P., Brill F.H., Steinmann Joerg, Steinmann Jochen, Becker S., Alves M.P., Pietschmann T., Eickmann M., Thiel V., Steinmann E. Virucidal Activity of World Health Organization-Recommended Formulations Against Enveloped Viruses, Including Zika, Ebola, and Emerging Coronaviruses. J. Infect. Dis. 2017;215:902–906. doi: 10.1093/infdis/jix046
Dei Pharmaceuticals, 2020. DEI Group launches sanitizer that kills viruses including the COVID-19 Corona virus [WWW Document]. URL https://deigroupinternational.com/dei-group-launches-sanitizer-that-kills-viruses-including-the-covid-19-corona-virus/ (accessed 4.20.20).
Huddleston, J.T., 2020. The history of hand sanitizer—how the coronavirus staple went from mechanic shops to consumer shelves [WWW Document]. URL https://www.cnbc.com/2020/03/27/coronavirus-the-history-of-hand-sanitizer-and-why-its-important.html.
Kenters, N., Eikelenboom-Boskamp, A., Hines, J., McGeer, A., Huijskens, E. and Voss, A., 2020. Product dose considerations for real-world hand sanitiser efficacy. American Journal of Infection Control, 48(5), pp.503-506.
Greenaway, R., Ormandy, K., Fellows, C. and Hollowood, T., 2018. Impact of hand sanitizer format (gel/foam/liquid) and dose amount on its sensory properties and acceptability for improving hand hygiene compliance. Journal of Hospital Infection, 100(2), pp.195-201.
M.A.C. Wilkinson, K. Ormandy, C.R.Bradley, A.P. Fraise, J. HinesDose considerations for alcohol-based hand rubs. J Hosp Infect, 95 (2017), pp. 175-182
G. Kampf, S. Ruselack, S. Eggerstedt, N. Nowak, M. Bashir. Less and less-influence of volume on hand coverage and bactericidal efficacy in hand disinfection. BMC Infect Dis, 13 (2013), p. 472
A.M. Butz, B.E. Laughon, D.L.Gullette, E.L. LarsonAlcohol-impregnated wipes as an alternative in hand hygiene Am J Infect Control, 18 (1990), pp. 70-76
Deutsches Institut für Normung, European Norm 1500. Chemische Desinfektionsmittel und Antiseptika. Hygienische Händedesinfektion. Prüfverfahren und Anforderungen (Phase 2/Stufe 2), 1997.
ML Rotter. Hand washing and hand disinfection Mayhall CG (Ed.), Hospital epidemiology and infection control, 2nd edn, Lippincott Williams and Wilkins, Philadelphia (1999), pp. 1339-1355
D Pittet, S Hugonner, S Harbarth, et al.Effectiveness of a hospital-wide programme to improve compliance with hand hygiene. Lancet, 354 (2000), pp. 1307-1312
M.L. Grayson, S. Melvani, J. Druce, I.G.Barr, S.A. Ballard, P.D. Johnson, et al.Efficacy of soap and water and alcohol-based hand-rub preparations against live H1N1 influenza virus on the hands of human volunteers Clin Infect Dis, 48 (2009), pp. 285-291
World Health Organization. Guidelines on hand hygiene in health care, 2009. Available from: http://whqlibdoc.who.int/publications/2009/9789241597906_eng.pdf. Accessed January 10, 2012.
Larson, E., Cohen, B. and Baxter, K., 2012. Analysis of alcohol-based hand sanitizer delivery systems: Efficacy of foam, gel, and wipes against influenza A (H1N1) virus on hands. American Journal of Infection Control, 40(9), pp.806-809.