Sterillo Odour Control Hand Dryer - White
Would you like any replacement lamps?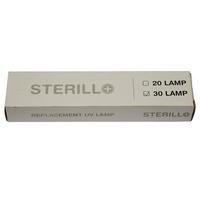 £22.00 + VAT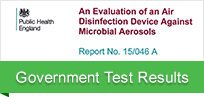 Odour Eliminating Sterillo: Eliminates washroom smells
2016 UK Government (PHE) Tested: Kills 99.96% of airborne germs
Ultra high speed hand dryer: 10 - 12 second dry time
Stylish Looks: 304 stainless Steel Powder Coated - white
No need to use air fresheners: Free Matching Steel splashback
Latest ECO features: Costs under £35 per year in electricity to run!

We have had feedback from upper management of the company and restaurant guests of the heightened clean smell and sanitation.
Adrian Tyler, Area Purchasing Manager
Multi Buys Buy 3+ £346.75 per item (Ex. VAT)
Buy 5+ £328.50 per item (Ex. VAT)
Buy 10+ £319.38 per item (Ex. VAT)
Next Business Day Delivery £10 regardless of quantity
Order before 2pm
Product Info
Tech Spec
Downloads
The Sterillo Room Santising Hand Dryer, now tested by Public Health England (an Executive Agency of the Department of Health) found to kill 99.96% of airborne germs in only 2 hours. The full test report is available to download here.

The Sterillo concept is truly innovative and unique thanks to patented technology that allows the hand dryer to not only quickly and efficiently dry hands but also eliminate airborne bacteria*, leaving washrooms clean and smelling fresh.

Does The Sterillo Remove Smells?

Dorchester Hotel. Park Lane. London said the Sterillo had

"

made a huge difference to the atmosphere, there are now no unpleasant odours at all"

HIX Restauarants said

"

feedback from both upper management of the company, and restaurant guests of the heightened clean smell and sanitisation"
The Kennet Shopping Centre in Newbury said their Sterillos had "

definitely helped with reducing the unpleasant odours that are often associated with frequently used public toilets."

Here at Handy Dryers we are delighted to say that we are the UK's official retailer of the Sterillo Hand Dryer. This fantastic technology is all wrapped in a stylish design and three different colours – black, stainless steel and white – meaning that not only will the Sterillo improve the smell of the washroom but also provide a stylish and professional finish.

The Sterillo is available in 4 different sizes – the Sterillo 5, 10, 20 and 30, suitable for washroom sizes of 5M² 10M², 20M² and 30M² respectively.

How does the Sterillo work?

The Sterillo uses UV light as a sterilisation method to help kill airborne germs, mould and viruses - therefore eliminating washroom odours. Ultraviolet Germicidal Irradiation (UVGI) is a sterilisation method that uses UV light at sufficiently short wavelengths to break down micro-organisms and remove their reproductive capabilities and kills them. Using a UVGI device, such as the Sterillo, in certain environments such as circulating air creates a deadly effect on micro-organisms such as pathogens, viruses and moulds that are in these environments.

Fantastic Hand Drying Performance

Not only does the Sterillo use UV technology to its fullest; it also features the amazing hand drying technology that is featured in our Kangarillo 2 Hand Dryer. With an ultra-quick dry time of 8-10 seconds, ECO sensors to test ambient air temperature and adjust air heater power accordingly and a powerful airflow of 110 metres/second means that the hand drying capabilities are second to none.

Operating Power

220-240 V, 50/60 Hz, 1.4 kW

Warm Air Speed Output

110 m/S

Air Output Temperature 40°C – Where Ambient Temp. below 24° - Automatically adjusted

Motor Type

600W, Brush Type, Dual Ball Bearings

Motor Overload protection

Motor assembly designed with over current fuse, replaceable.

Heater Thermal Protection

Auto Resetting Thermostat turns unit off at 85°C {185°F};
Thermal fuse cut unit off at 142°C {288F}

Drying Time

8 - 12 seconds

Circuit Operation

Infrared Automatic, self adjusting

Sensor Range

51 mm to 330 mm, adjustable;
Standard 150mm +20 mm

Timing Protection

60 seconds auto shut off

Unit Size

335 mm W x 410 mm H x 172 mm D

Warranty

1 year (upgradable to 3 years at no cost)

Noise Level (at 1m)

79 Decibels