Our Sister Site, Heat Outdoors, is the UK's leading patio heater company.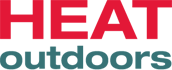 All of our patio heaters are dispatched from our UK based warehouse.
Our range includes commercial gas heaters, such as our most popular Athena and Santini flame gas patio heaters , which you can find displayed outside some of London's popular bars and restaurants, in addition to electric patio heaters from the UK's leading brands, such as the Shadow Ultra Low Glare and Shadow Zero Light Ceramic patio heaters.
Hundreds of businesses and homes are already being heated by our patio heaters, and we're proud to have earned a 5 star rating on TrustPilot from over 400 reviews of satisfied customers that are very happy with the quality of our service and products.
As with our hand dryers, we offer unrivalled, UK-based support and next day delivery on our quality products.
Choosing the right patio heater for your garden
Whether a gas patio heater or an electric patio heater would be better suited to your garden entirely depends on what you would like to achieve and your own personal preferences.
Gas Patio Heaters
Gas Patio Heaters are are good choice for those that want a sturdy, free-standing heater without having to worry about cables or leads that could potentially become a trip hazard or perhaps an eyesore. Gas patio heaters also have an impressive heat output, making them perfect for larger commercial establishments where warming many patrons is required.