With a maximum airflow of 245 miles per hour, the Sterillo dries hands in 10 seconds or less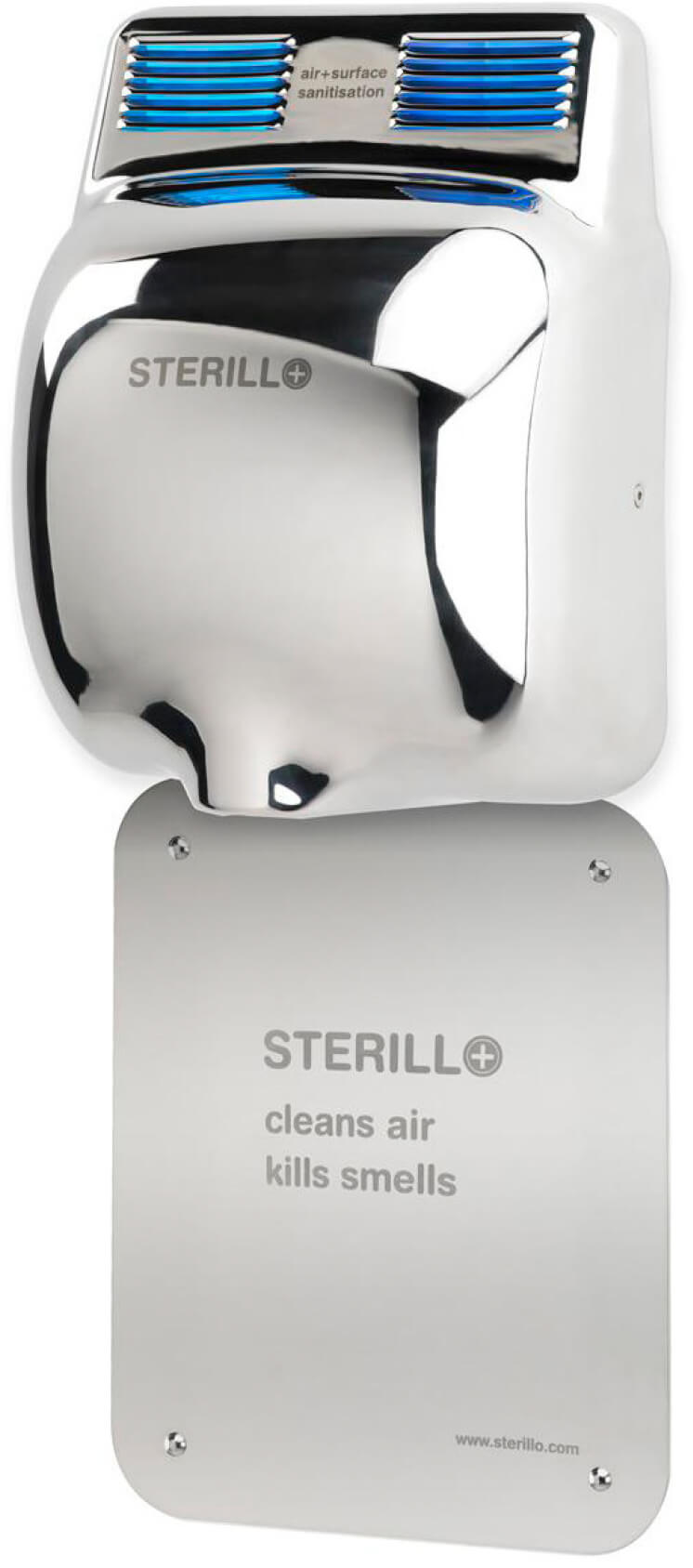 Some hand dryers are so ineffective they're unable to do the one thing they're built for. The Sterillo's dual ball-bearing 600W eco motor blasts out heated air at 245 miles per hour. It's powerful enough to shift air molecules 110 metres in a single second.
When exposed to such speeds, moisture doesn't stand a chance. In tests, the Sterillo dries hands entirely in as little as 8 seconds – and a free stainless steel splashback panel protects walls and tiles from mould growth.
A high performance hand dryer that's good for the planet
Despite its power, the Sterillo is well and truly an eco hand dryer. Its smart technology senses ambient air temperature and adjusts the Sterillo's heating element accordingly. The Sterillo only heats surrounding air to 85°C, no further. It's tech that uses less energy, is kind to the planet and keeps running costs at around £10-£20 per year.
"The most hygienic hand dryer available on the market today."
The Sterillo has been called "the most hygienic hand dryer available on the market today" by Raymond Martin, British Toilet Association MD and passionate campaigner for better public toilets. It's a title offered for more than one reason.
As you'd expect, the Sterillo is automatically operated. Intelligent sensors fire the Sterillo into action – so there's no need to touch anything.
A free, stainless steel splashback also prevents water from clinging to wall tiles, which in turn prevents unsightly and unhygienic mould growth.
Above all, though, the Sterillo is the first and only hand dryer available that removes germs from bathroom air. When it's not drying hands, the Sterillo silently and continuously draws in bathroom air. It then treats the air with the same germicidal light commonly used to sanitise hospitals and care homes. The UVC light renders germs unable to perform vital cellular functions, killing them off.
The Sterillo is the only hand dryer that removes germs from the air, improving sanitation and eliminating the unpleasant smells that feature in almost all toilets and washrooms.
Operating Power
220-240 V, 50/60 Hz, 1.4 kW
Warm Air Speed Output
110 m/s
Air Output Temperature
40°C - Where Ambient Temp. below 24°C - Automatically adjusted
Motor Type
600W, Brush Type, Dual Ball Bearings
Motor Overload protection
Motor assembly designed with over current fuse, replaceable.
Heater Element
900W
Heater Thermal Protection
Auto Resetting Thermostat turns unit off at 85°C (185°F);
Thermal fuse cut unit off at 142°C (288°F)
Drying Time
Less than 8 - 12s
Circuit Operation
Infrared Automatic, self adjusting
Sensor Range
51mm to 330mm, adjustable
Standard 150mm + 20mm
Timing Protection
60 seconds auto shut off
Drip proof
IPX1
Isolation
CLASS 1
Net Weight
7 kg
Unit Size
390 mm W x 470 mm H x 230 mm D
Warranty
2 Years (1st Year Parts + Labour)
Noise Level (at 1m)
79 dB