The Sterillo: the hand dryer that takes hygiene to new levels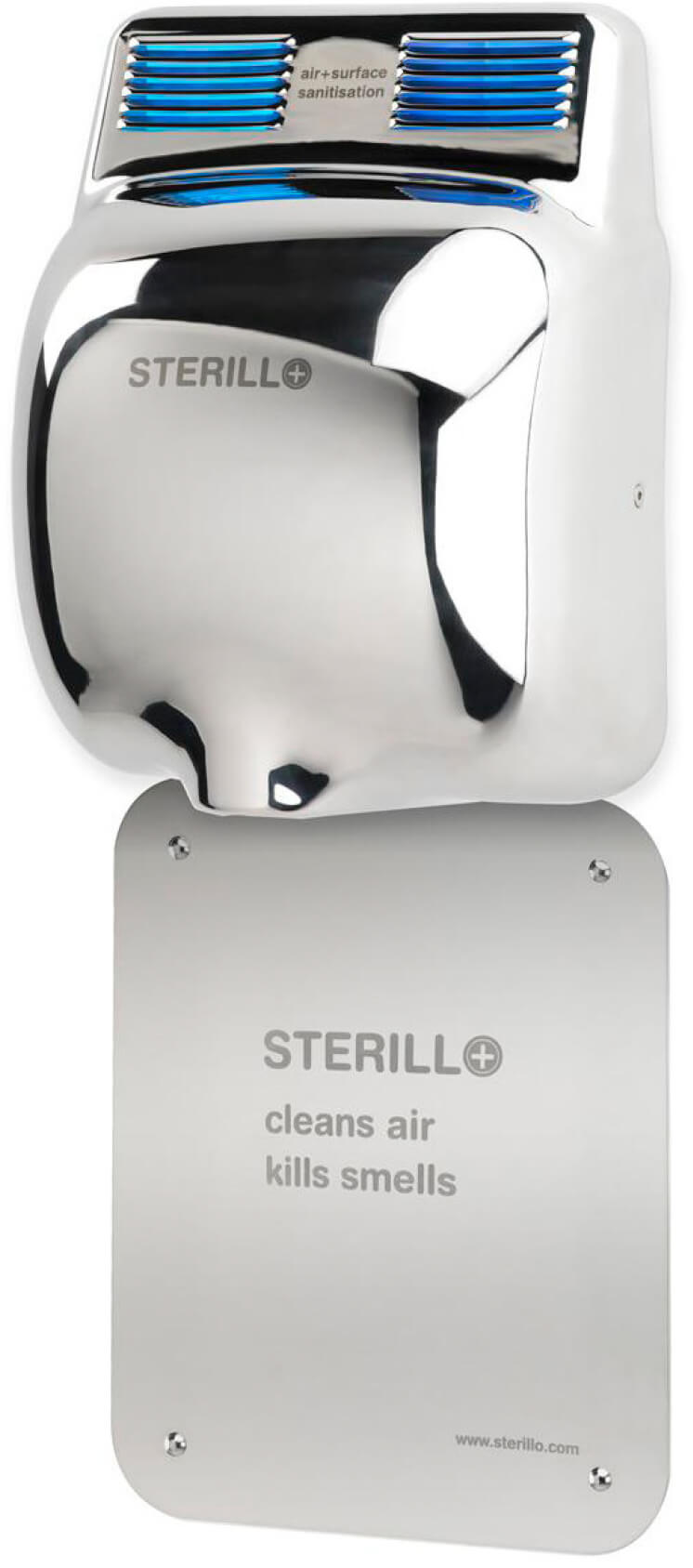 This ultra-fast ECO hand dryer senses the ambient air temperature and adjusts the air heater's power accordingly. It offers big benefits to organisations of all sizes:
Speed and efficiency, drying hands in an amazing 8-10 seconds.
Big cost savings, as power is automatically adjusted.
Easy installation, with minimal disruption and a small footprint.
With the Sterillo you get the ultimate combination of cutting-edge hand dryer and unique sanitising technology in one sleek, state of the art unit.
Did you know?
Paying customers associate a dirty toilet with a dirty kitchen!
The high-tech hand dryer that sanitises too
Ultra fast hand drying
Powerful airflow - 110 metres/second (245 miles per hour)
Low energy use
Automatic operation
Polished 304 stainless steel or enamelled stainless steel in black or white
Operating Power
220-240 V, 50/60 Hz, 1.4 kW
Warm Air Speed Output
110 m/s
Air Output Temperature
40°C - Where Ambient Temp. below 24°C - Automatically adjusted
Motor Type
600W, Brush Type, Dual Ball Bearings
Motor Overload protection
Motor assembly designed with over current fuse, replaceable.
Heater Element
900W
Heater Thermal Protection
Auto Resetting Thermostat turns unit off at 85°C (185°F);
Thermal fuse cut unit off at 142°C (288°F)
Drying Time
Less than 8 - 12s
Circuit Operation
Infrared Automatic, self adjusting
Sensor Range
51mm to 330mm, adjustable
Standard 150mm + 20mm
Timing Protection
60 seconds auto shut off
Drip proof
IPX1
Isolation
CLASS 1
Net Weight
7 kg
Unit Size
390 mm W x 470 mm H x 230 mm D
Warranty
2 Years (1st Year Parts + Labour)
Noise Level (at 1m)
79 dB