So, here's the thing – there's no single test for deciding which dryer is best. Choosing the perfect hand dryer will require you to consider a number of factors, including the needs of your users, your facilities budget, interior design considerations and the particular requirements of your organisation
To help you decide which is the best hand dryer for you, we've put together a list of helpful pointers.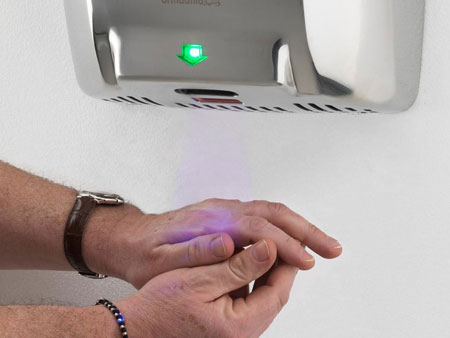 Which dryer is best for…
Speed?
The modern world moves fast, and in commercial environments especially, every second counts.
It has been estimated that every office worker in the UK wastes an average of 41 hours per year using the bathroom while at work, reducing economic productivity and costing UK businesses vast amounts of money.
Blasting water from wet hands in as little as 8 seconds, a high speed hand dryer is a simple yet effective tool to help reduce the time employees spend in the washroom, enabling them to return to their desks more quickly.
Super affordable to run, high speed hand dryers rely on air pressure rather than heat as the primary skin-drying mechanism, enabling them to use as little as 0.6kW per use.
Sound?
Are your washrooms connected to a noise-sensitive business, such as a theatre or music venue?
In the past, researching which dryer is best for these sorts of bathroom facilities would have been an arduous task. You may even have given up entirely and bought a paper towel dispenser. But thankfully, a powerful and ultra-quiet breed of hand dryers has now emerged.
Not only do quiet hand dryers maintain a calm, professional atmosphere – they help you to avoid costly noise-nuisance fines.
Remember, the very quietest hand dryers carry the Quiet Mark from the Noise Abatement Society – so make sure you look out for it.
Hygiene?
Hygiene is a key factor when considering which dryer is best for your washroom – especially if your organisation is a school, public venue or healthcare facility, where germs must be contained at all costs.
The most hygienic hand dryers are those with a high efficiency particulate air (HEPA) filter inside them. This clever piece of kit enables the hand dryer to suck in and trap over 99% of airborne bacteria and other contaminants, meaning that the air flowing onto users' hands stays incredibly clean.
Stainless steel is an easy to clean, notoriously difficult material for bacteria to land on and breed. Wherever possible, stainless steel dryers and other components will help boost the hygiene levels in your washroom considerably.
Of course, The Sterillo has been called "the most hygienic hand dryer available on the market today" by Raymond Martin, MD of the British Toilet Association and outspoken campaigner for better public toilets.
Looks?
After spending time, money and effort designing an opulent washroom, your hand dryer should be nothing less than superbly stylish.
Some of the best looking models around, blade dryers come in a variety of sleek, futuristic shapes – and most are so neat and compact, they won't mess with your interior scheme.
And if you're interested in maintaining a sophisticated, mess-free environment, look out for a hands-in blade dryer with an integrated water collection tray. These beauties will catch the splashes and stray water droplets from users' hands, storing the contaminated water discreetly beneath the machine.
We hope you found this short guide useful, and that it helps you to consider which dryer is best for your organisation.
Happy shopping!