Our Best Hand Dryers
Gone are the days of compromise. In the past we had specific hand dryers leading the way for either style or drying time but the dryers of 2023 are trailblazing state of the art technology. Superseding all of the old 'specialist' dryers in one compact machine.
At Handy Dryers we have invested in some great new models for 2023 to complement our best seeling hand dryer range. The best has just got better.
In the past few years, hand dryer technology has accelerated tremendously, leading to a wide range of high performing dryers available on the market today. There are now a number of hand dryers manufactured to tailor to customers with different requirements. This can range from the dryers noise output, hygiene ratings, speed or the total cost of purchasing hand dryers for your business, with some advanced dryers covering all bases. Ranges like the Gorillo hand dryers, offer a wide selection of hand dryers at different price points, that have great funcionality and are some of the most popular on the market today
The top end of the market offers hand dryers with exceptional functionality, however, there a some great dryers with fantastic spec for customers with limited budget. Considering all the options is important when deciding on the optimal hand dryer for your business, this article will present in greater the ideal hand dryers for all different types of customers.
How quickly can a hand dryer dry your hands?
We live in a fast paced world where every second counts. Impressively, the fastest hand dryers are now drying hands in 10 seconds with some eco settings still managing to dry in under 15 seconds.
At the top end of the market, TOTO hand dryers are capable of drying hands in up to 10 seconds.
For our best selling hand dryer look no further than the Kangarillo 2 ECO hand dryer, which can dry hands in an impressive 8-10 seconds. It offers great ECO features, superb reliability and great value for money. Next day delivery available from our UK warehouse.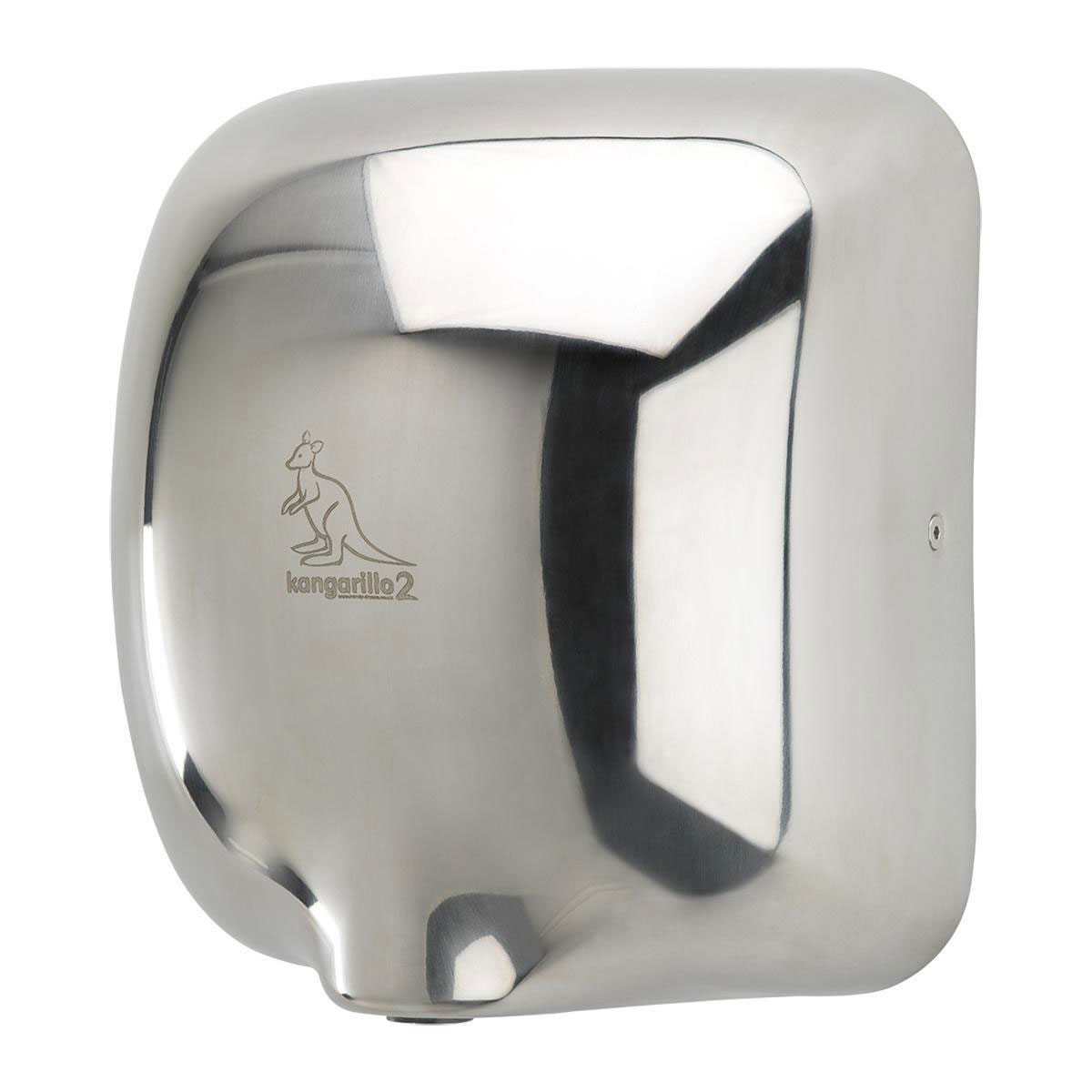 Kangarillo 2 ECO Hand Dryer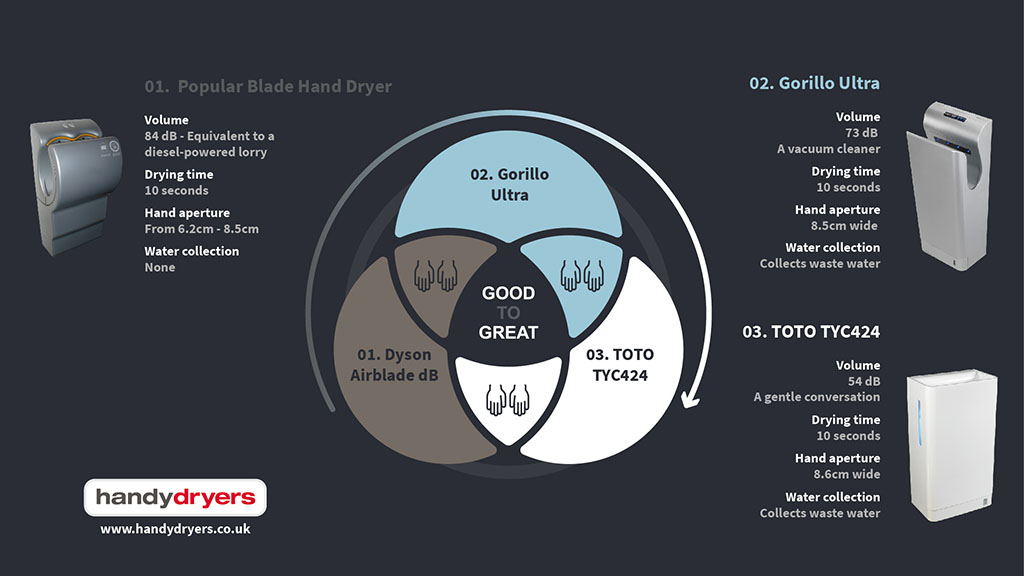 Noise
All of our hand dryers are rigorously tested by us against our competitors and many have been given the 'Extra Quiet' seal of approval. The new Elerillo ECO Hand Dryer produces just 69 decibles and is available at an extremely competitive price point.
A disadvantage of many of the faster hand dryers that were produced a few years ago is the tremendous amount of noise that they would create, disturbing customers and employees in the process. This led to many restaurants, offices and hotels either sticking with paper towel dispensers or using lesser quality old fashioned hand dryers.
With the arrival of sleek units like the Gorilla Ultra and TOTO dryers, that offer stylish design, hygienic water collection and quieter sound. The noise of older designs of blade dryer, at 84dB are making as much noise as a diesel-powered lorry while new quieter models at the top of the market are a mere 54dB – the sound of a quiet conversation.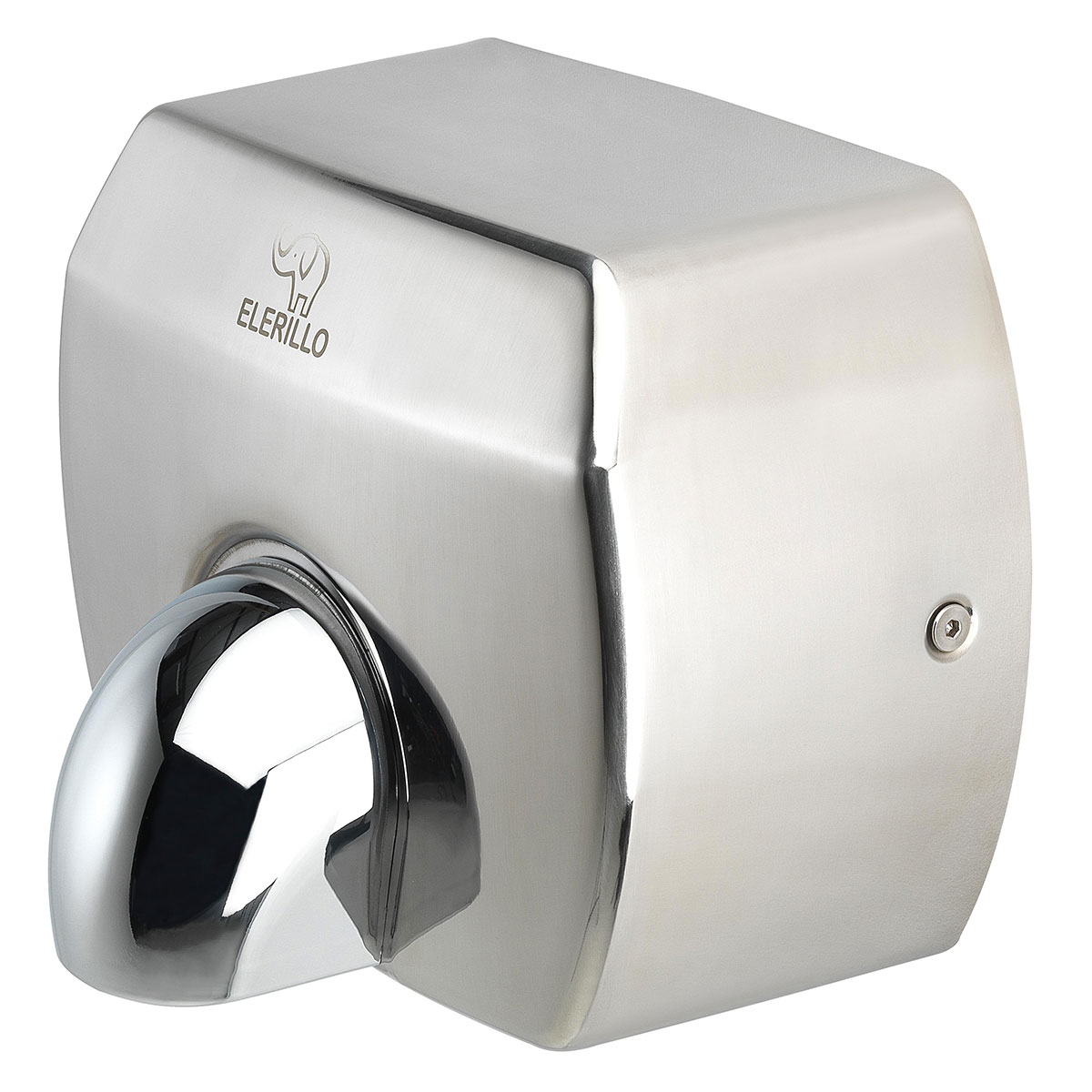 Elerillo Quiet ECO Hand Dryer
Hygiene
With all of our top picks for 2020 drying hands in less than 15 seconds it is now easier than ever for users to make sure they are leaving with their hands completely dry. This is incredibly important during the current COVID-19 pandemic, as wet hands can become a breeding ground for harmful bacteria
The Sterillo Germ Killing Hand Dryer, is a truly groundbreaking piece of technology, capable of destroying 99.96% of airborne germs and bacteria. The Sterillo utilises UVC light technology, proven to kill harmful bacteria and sterilise the surrounding airspace. It has been proven highly effective in removing viruses, including strains of the coronavirus.
Harnessing the power of germicidal light rays, the Gorillo Junior's integrated UV-C lamps cast a sterilising glow over the hands as it dries them, rendering the majority of bacteria and other harmful organisms harmless.
What's more, the TOTO, Gorillo Junior and Vulcan have inbuilt HEPA filter catching over 99% of hazardous germs and particles of human waste that float in the air of even the most carefully cleaned of washrooms, limiting the spread of harmful diseases. This means that hands are dried with clean, freshly filtered air every single time.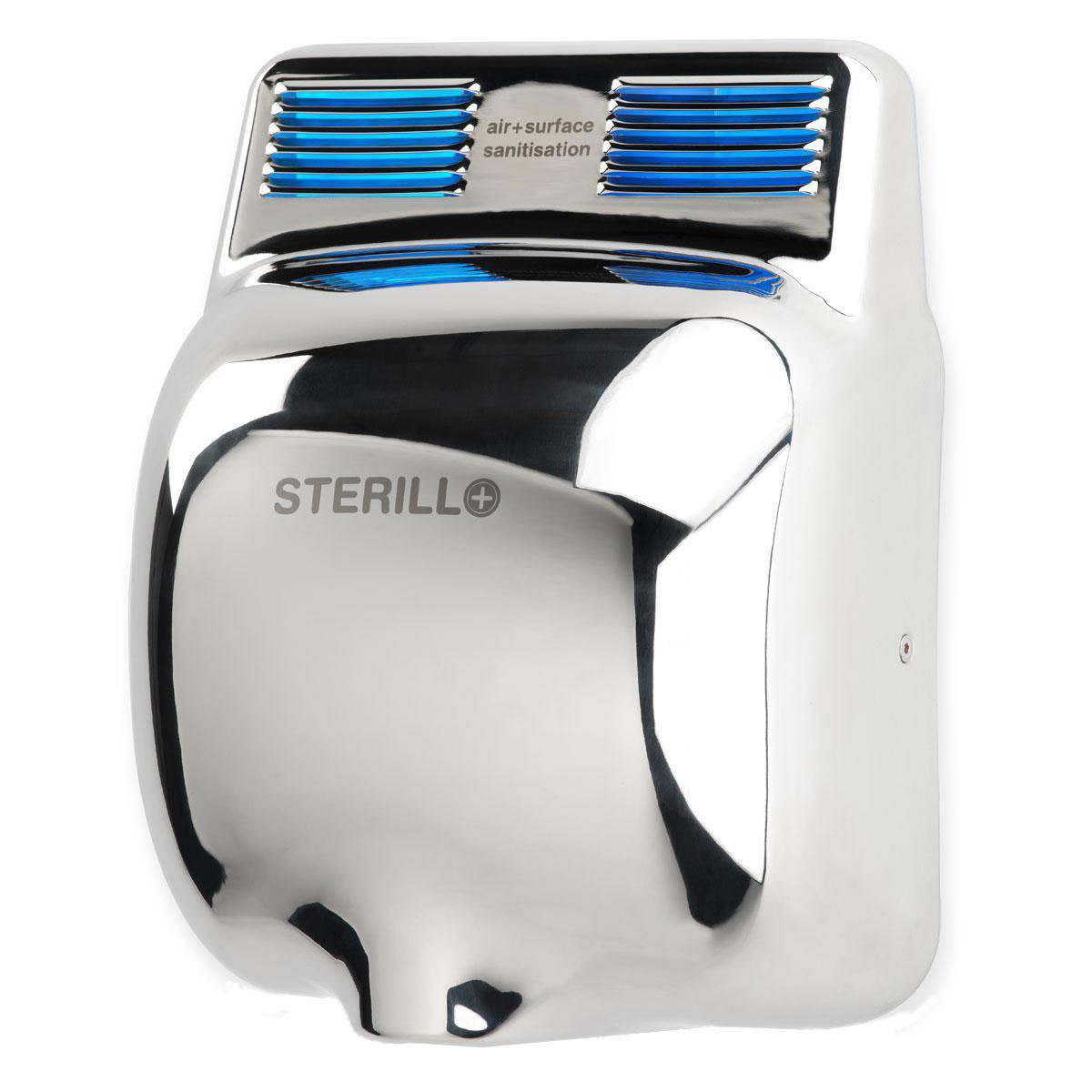 Sterillo Germ Killing Hand Dryer
Cost / Economy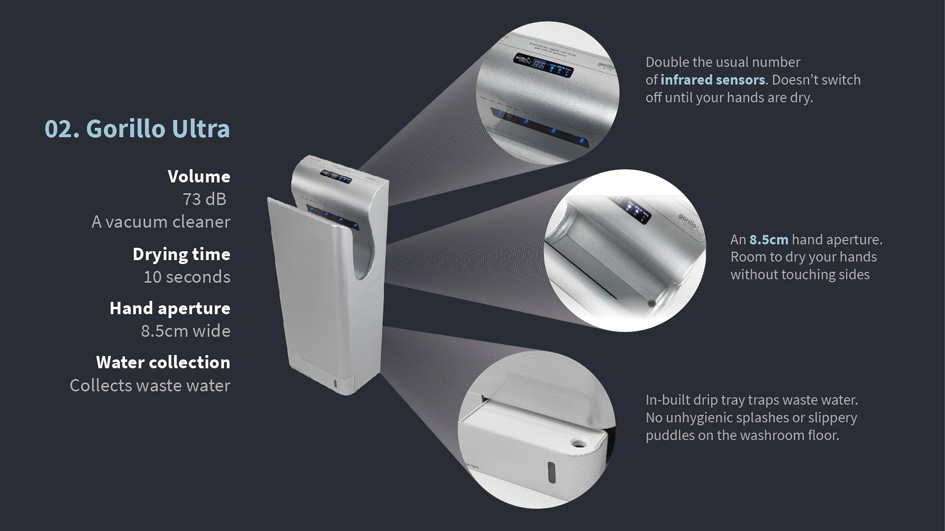 The Gorillo range of hand dryers are some of the best value for money options available on the market today. Competing with the best known blade hand dryers in terms of performance at just a fraction of the price.
Described as 'Fierce but budget friendly', the Gorillo Junior still dries hands in 10 seconds and boasts an inbuilt HEPA filter, germicidal sterilising UV-C lamps and a concealed water collection tank, enabling stagnant water to be collected without splashes or spillages. It also features double the usual number of infrared sensors, meaning it can detect hands from different directions simultaneously. While some conventional dryers can cut out or fail to respond, the Gorillo Junior is laser-accurate and will detect hands every time.
The most affordable hand dryer on the market right now is the Kangarillo 2 ECO Hand Dryer. Super smart, its ECO Air Sensor will detect the ambient temperature of a washroom, then automatically adjust the airflow temperature to keep running costs right down. The Kangarillo 2 uses as little as 0.6kW per use, making it a financially intelligent choice for offices, bars, restaurants and other busy commercial premises where large overheads can cause even larger headaches.
At the top end of the market, the TOTO TYC424 is the quietest hand dryer in the world, producing just 54 decibels. It also dries hands in just 10 seconds, accompanied with buil in drip trays trapping waste water and uses hygiene technology to ensure hands are not only dry but clean a well. The TOTO TYC424 is matched in cost to many other big brand blade dryers on the market, and while some people may be ready to invest in these for their state of the art qualities, many businesses budgets may call for something with a smaller price tag.
Whereas in the past looking for a product with half the price tag meant you're also getting half the quality, that is no longer the case. Producing as little as 58 decibels (little more than the background music in a smart restaurant), the TOTO TYC324W is everything the industry has come to expect from the pioneering Japanese manufacturer. This stylish hands-under blade dryer is made from scratch resistant resin and features a contoured water collection tray to defend hand washers from flying water droplets. All TOTO hand dryers make use of brushless motors, giving them around ten times the lifespan of standard brushed motors. At nearly half the price of the TYC424, The TYC324W is a fantastic option at a mid range price point.
If you are looking for an option at a lower price point than the TOTO models, then the Vulcan and the aforementioned Gorillo Junior and Kangarillo 2 are the ideal solutions to still receive impressive functionality. These models all offer dry hands in under 15 seconds and favourably priced against the comptetion. These hand dryers come in slightly noisier at 73 decibels, around the same volume as a vacuum cleaner, however, still much quieter than older fashioned models that are close to the noise of a diesel powered lorry.
Performance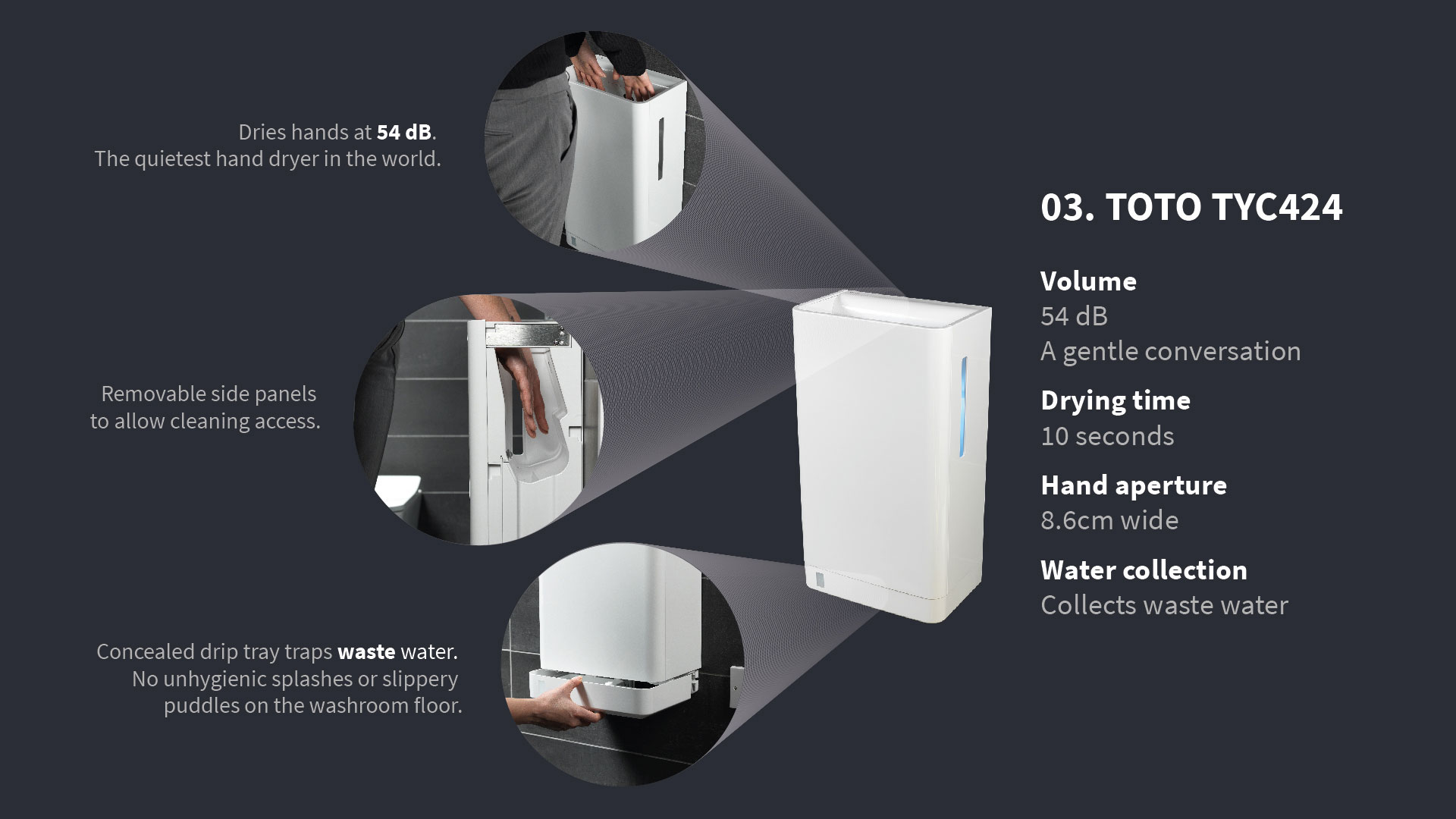 For the fashionable 'hands in' dryer it's hard to compete with the TOTO TYC424 and Gorillo Ultra. As the old saying goes, true beauty is on the inside and these dryers may look the part but more importantly they've got the technology to match their appearance. With competitive results in hygiene, drying time and volume it's hard to deny that these dryers are giving the best performance on the market.
Other HandyDryers which are topping the UK market
Kangarillo 2 - Best fast hand dryer
Ultra high speed hand drying: 8 - 10 seconds
Powerful airflow: 110 metres/second (245 miles per hour)
ECO air sensor: Auto heat adjustment
Automatic operation
Polished 304 stainless steel or Enamel Powder Coated (Black and White)
Kangarillo Ultra - Best Vandal Proof dryer
Premium vandal resistant: 1.8mm thick 304 Stainless Steel
Switchable Heater: ECO self Adjusting Heater
HEPA Filter: removes 99.9% of microbes from air
Additional 1 years warranty: 3 years in total
Airbox V2 with Sound control - Best Value hand dryer
Ultra fast hand drying: 8 - 10 seconds
Fully ECO functionality with control of heating element and motor speed
Automatic operation
Polished 304 stainless steel or Enamel Powder Coated (Black and White)
Award winning low noise hand dryer: Operates between 60-72dB
Gorillo Junior - Best hands in hand dryer
HEPA Filter with UVC Sterilisation: Cleans the air whilst drying your hands
Small & Compact Design: Still the same quick drying times
In built digital room thermometer: Self Adjusting air heat output
5 different colours to choose from
Gorillo Ultra - Best commercial hand dryer
HEPA Filter with UVC Sterilisation for better hygiene
Fast hand dryering at 7-9 seconds
High quality brushless motor for high traffic washrooms
Built in drip tray to reduce splils on the floor
Quiet hand dryer with low noise level
TOTO TYC424 - Best quiet hand dryer
Widest hand aperture of any hands in dryer: less chance of hands touching the machine
Ultra fast hand drying: 8 - 10 seconds
Powerful airflow - 110 metres/second (245 miles per hour)
The Worlds Quietest Hands In Hand Dryer:as low as 54 dB(A)
Automatic operation
Scratch resistant poly-carbonate white body