How to install a baby changing station
The Handy Dryers range of Baby Changing Stations are stocked in the UK and available for next day delivery.
Baby changing stations are designed to be easy to install, and any baby changing unit you purchase should be provided with a full set of installation and operator instructions.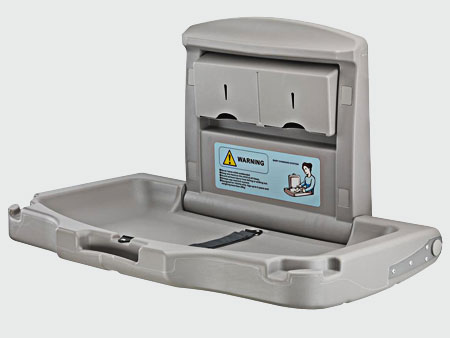 How to install a baby changing station
Open the box containing your baby changing station.
Take out the baby changing unit and wall-mounting bracket.
Locate and read the installation instructions.
Identify a clear rectangular wall space in your washroom, the bottom of which is around 94 - 99cm above the floor. This is the recommended table height for a baby changing station when it is open and in use.
Before you begin, ensure that you check what kind of wall you are mounting the baby changing unit on to – tile, masonry, concrete block and metal stud walls all have different mounting requirements, as described in the Installation Instructions.
Using a spirit level, mark the locations of each mounting screw with a pencil before you drill the holes.
If it helps, use the changing station mounting bracket as a template to mark out the locations of the screws.
Wipe down the newly mounted baby changing station with a clean cloth, removing any debris.
Make sure you test your baby changing station before allowing it to be used. We recommend that you open and close the unit several times, and place a weight of approximately 32 kg on the changing table, checking that it remains securely fastened and that there is no movement away from the wall.
Provided that the installation instructions have been followed correctly, and the unit has been properly tested, your baby changing station is now ready for use*.
*To check how to use your baby changing unit, please read the operator instructions that should be included in the box with your baby changing unit.
Essential requirements for a baby changing station
Our baby changing stations are incredibly safe, clean and convenient. They're also made from some of the most robust materials available on the market today.
However, there are some essentials for all baby changing stations which you'll need to bear in mind before you install yours.
Allow sufficient access
You'll need to provide enough room in front of your baby changing for it to be used while fully open.
Locate your baby changing station in a place where it will not obstruct traffic, get in the way of or damage other washroom equipment.
Assemble with care
Make sure that you have read the installation instructions for your baby changing unit carefully before you attempt to install it.
Before mounting your baby changing unit on the washroom wall, check what material the wall is made from – this should guide you to the relevant part of the installation instructions.
Test it
Make sure you have tested your baby changing unit before allowing it to be used. This includes opening and closing the changing table fully, and placing a test load of at least 32 kg on to the fully opened changing table to ensure that the unit is firmly screwed to the wall.
Remember, Handy Dryers is not responsible for ensuring that your unit has been installed properly.
Keep it clean
Baby changing can be a messy business, so you'll need to ensure that all baby changing stations in your washrooms are regularly and thoroughly sanitised.
We recommend that you clean your baby changing stations at least once a day* with a damp cloth soaked in a mixture of warm water and disinfectant. Antibacterial spray and a dry cloth will do for occasional wipe-downs throughout the day.
*Please note that busy washrooms may require extra hygiene checks and regular deep cleaning.
Baby Changing station range - Order here