In theory, placing your hand dryer or towel dispenser in just the right location should be easy. In the simplest terms, it involves measuring the hand dryer height from the floor and planning the right hand dryer distance from the sink and other washroom features.
The fact that it seems so simple is perhaps why many unwise facilities managers don't give it a second thought – with often embarrassing results (take a look at the picture above).
It's important to remember that any new equipment you purchase for your washroom facilities is an investment – of time and money. If you don't pay attention to how you then install that equipment, you'll end up squandering both.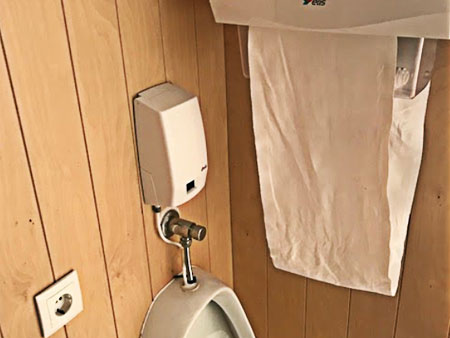 Making effective use of internal space, ensuring electrical compliance, improving the interior atmosphere and maintaining proper hygiene standards – these are integral aspects of a facilities manager's role, and planning where to install your hand dryer or towel dispenser will enable you to leverage all four of them.
With that in mind, here are some things to consider when installing a new hand dryer or towel dispenser.
Use space effectively
Have you ever visited those ridiculously overcrowded washrooms where people jostle their way around you at the hand dryer? Where the unhelpful room configuration means they can't help but splash you with their undried hands, or force you into positions most contortionists would find uncomfortable?
If you have, you'll probably have realised that, 99% of the time, it's the positioning of the dryers or dispensers themselves that's to blame.
To ensure an easy flow of users through your washroom space, make sure you take careful measurements of the sink area and surrounding wall space.
For washrooms that are on the small side, a slim or compact hand dryer helps you make the best use of the space.
Hand dryer height from floor
The ideal hand dryer height depends mainly on the age range of your average washroom users, and the type of dryer you're installing.
Suggested hands-under dryer height relative to age range:
Males (adult): 1,170mm
Females (adult): 1,120mm
Children (ages 4–7): 810mm
Children (ages 7–10): 910mm
Children (ages 10–13): 1,020mm
Children (ages 13–17): 1,120mm
Disabled users: 940mm
These measurements are taken from the air nozzle of the dryer to the floor.
Suggested hands-in dryer height relative to age range
Males (adult): 1,050mm
Females (adult): 975mm
Children (all ages): 875mm
Disabled users: 875mm
These measurements are taken from the top of the dryer unit to the floor.
Disability regulations. How it affects the installation height of hand dryers
In order to comply with the latest regulations and best practice we have developed a range of slim hand dryers. The recomended placement of these products on the wall is shown in the following diagram.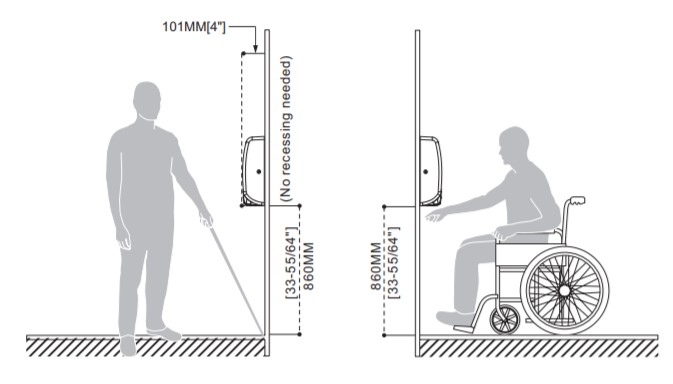 Stick to IEE Wiring Regulations
Importantly, the IEE Wiring Regulations (BS7671) usually influence the position of hand dryers in washrooms. The regulations dictate precisely where hand dryers and electrical appliances can (and can't) be installed, which all depends on each individual dryer's IP rating.
IP ratings indicate how resilient a dryer is to liquids, water and other particles. Although it's a simplification, it sometimes helps to think of an IP rating as a measure of how 'waterproof' a dryer is.
Understanding your dryer's IP rating – and where to position your dryer
It's important to check the IP rating of your hand dryer before installing it in the vicinity of sinks, showers, urinals and toilets.
The IP rating will begin with the letters IP then continue as a double-digit number, for example 'IP61'. The first number (in our example, 6) is a measure of dryer resilience to solid particles. The second number is a measure of resilience to liquids, which is the number you really need to consider.
Most hand dryers IP ratings end in a 1 (for example, IPx1), which means they should never be within 60cm of a bath, shower, sink or water source. (If placed above water-based appliances, the rules ease, but as any electrical appliance placed above a bath, shower, sink or toilet needs to be at least 2.25m from the floor, placing hand dryers above water sources is an absurd idea.)
Leaving a horizontal distance of at least 60cm between dryers and baths, sinks, toilets and water sources is usually essential – as this diagram shows. If that's simply not possible, hand dryers such as the Gorillo Blade dryer have a rating of IPx4, meaning you can place them within the 60cm zone if necessary.
This enhanced level of water protection makes the Gorillo ideal for disabled bathrooms, where showers are often in close proximity to other appliances.
Keep washroom visitors happy
There's nothing worse than feeling hemmed in or overlooked when you visit the bathroom. Place your hand dryers in an unfavourable position and you'll unintentionally anger a large proportion of people who visit it.
Hand dryers – especially high speed dryers – produce a sudden tornado of fast-flowing air, which can be noisy if people hold their hands too close to the nozzle.
If yours is a high speed hand dryer, it's a good idea to install it at least a meter away from urinals and other sanitaryware. Allow a little more distance from baby changing units if possible, to protect the sensitive ears of young ones.
Look after the look
Well-designed bathrooms are a big investment for any facilities department, so to avoid expensive mistakes, it's important to get the fundamentals of washroom configuration right at the start.
Having a hand dryer (or any other washroom appliance for that matter) in the wrong place makes the room look unattractive and clumsy. This is a common source of complaints, especially if you have high-paying customers to keep happy.
To avoid throwing the aesthetic off-balance, plan carefully where to locate your dryer in relation to other bathroom accessories, sanitaryware, mirrors, lights and architectural features.
Maintain effective washroom hygiene
The war on germs within the building or area you manage is usually an invisible one, but it's one of the most crucial responsibilities of any facilities manager.
Perhaps surprisingly, where you choose to install your hand dryer will have a direct impact on the passage of germs inside your washroom facilities. Therefore the main focus of your attention should be on keeping the toilet and hand-washing/drying sections of your washroom clearly separated.
As in the rather unfortunate image above, an appliance which is located too close to a urinal could easily be splashed with urine, or encourage absent-minded customers to dry their hands without washing them first.
Equally, positioning a hand dryer too close to a urinal or toilet cubicle could cause it to blow waste particles or droplets of urine around the room, plastering harmful pathogens and bacteria onto users' skin and clothing.
If your washroom is used heavily and suffers from bad-smelling airborne bacteria, installing it in a neutral position may not be enough to maintain a decent level of hygiene.
If this is the case, it may be wise to go the extra step and invest in the most hygienic hand dryer available on the market today – the Sterillo.
Installing a hand dryer
Need more tips on how to install a hand dryer? Have a look over here.
Well, there you have it – our simple guide to help you select the ideal location for your hand dryer.
The Sterillo – the most hygienic hand dryer on the market today
The Sterillo silently and continuously draws in contaminated bathroom air, blasting it with the same powerful germicidal light commonly used to disinfect hospitals. The UVC light kills the airborne germs in the washroom.
By destroying the germs in bathroom air, the Sterillo eliminates odours, improves sanitation, prevents infection and ensures people never distrust your bathroom's hygiene.
Saves money: reducing your energy spend over the year
Creates cleaner washrooms: Sterillo module kills germs and reduces unpleasant odours
Better customer experience

Sterillo hand dryer incorporating Germ Killing and odour control technology.