The Dillo Scented Hand Dryer - White
FREE Delivery on this item!
FREE Delivery on this item!
Would you like to add a washroom fragrance?
Dillo Washroom Scents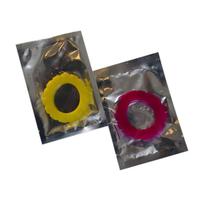 £9.99 + VAT
Optional Auto Perfumer: Fragrance Options Available
Multiple Nozzle output: extreme noise reduction to under 73dB
Switchable heating element: on/off
Solid Construction from Cast Aluminium: Tough and durable
Polished Chrome exterior

The Dillo is brilliant for our school as it is a quiet unit that doesn't frighten the younger children! We would definitely recommend the Dillo to other schools!
Robert Wilkinson, Tillingbourne Junior School
Multi Buys Buy 3+ £189.99 per item (Ex. VAT)
Buy 5+ £179.99 per item (Ex. VAT)
Buy 10+ £174.99 per item (Ex. VAT)
Next Business Day Delivery £10 regardless of quantity
Order before 2pm
Product Info
Tech Spec
Downloads
The Dillo. Stylish and softly spoken.

Prefer a quiet life? This is the hand dryer for you...

Washrooms should be a peaceful place, especially in noise-sensitive environments like offices, restaurants and concert venues, where disturbances can be bad for business.

Gently whooshing in at 72.5 decibels, the Dillo is considerably quieter than the average kitchen dishwasher, enabling meetings, meals and melodies to continue uninterrupted.

Atmosphere shouldn't be your only concern. Young children and the elderly can easily be frightened by sudden loud noises, so if you're looking after facilities in a school, hospital or other public building, the ultra-quiet Dillo hand dryer is the perfect choice.



It'll look after your money

Attractively priced to be kind to your budget and designed with super speedy technology, this model cuts hand drying time to between 8 and 12 seconds. This will massively lower your energy consumption and with it, help you to avoid outrageously big bills.



It's super green

With the additional energy-saving feature of a heat switch and multiple nozzle output, users can flick between hot or cold air in seconds.

Superbly efficient, the Dillo's technological wizardry reduces its carbon footprint dramatically, proving it to be an eco-friendly and economical solution for washrooms in offices, bars, restaurants, hospitals and education centres.



Petite? Yes, but it packs a punch…

Not only is the Dillo superbly good value when compared to much larger 'hands in' style dryers, it's compact size (288 x 320 x 171mm) makes it incredibly easy to fit in any space.

Don't let its size fool you. This hand dryer has a 500W brushed motor, which delivers a super powerful, low-noise airflow that will leave hands dry in seconds.


Looks good. Smells good too...

A hand dryer with unobtrusive, streamlined good looks – the Dillo's simple aesthetic and three colour options allow it to blend seamlessly into any kind of washroom interior, from swanky marble powder rooms to bog standard public lavatories.

With a choice of high quality polished chrome, black and white powder coated aluminium finishes and the unique option of a scented perfume ring, your washroom facilities will benefit from the Dillo's striking looks, pleasant smells and robust durability at all times.



Our two-year warranty

This hand dryer comes with our seal of quality approval and a two-year warranty, including free parts and labour should you need it repaired within the first year of purchase.

Operating Power

220-240 V, 50/60 Hz, 1.25 KW

Warm Air Speed Output

30 m/S

Air Output Temperature

113°F (40°C) - Ambient Temp, 68° (20°C)

Motor Overload protection

Motor assembly designed with over current fuse, replaceable.

Switchable Heater Element

700 W

Heater Thermal Protection

Auto Resetting Thermostat turns unit off at 85°C {185°F} Thermal fuse cuts unit off at 142°C {288F}

Circuit Operation

Infrared Automatic, self adjusting

Sensor Range

Standard 120 mm+30 mm

Timing Protection

60 seconds auto shut off

Net Weight

4.5 kg [9.9 lbs]

Warranty

2 Years (1st Year Parts + Labour)

Noise Level (at 1m)

72.5 Decibels