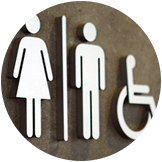 We wouldn't recommend eating off either. But a recent BioCote study found a toilet sink can be coated with 333 times the bacteria of a toilet seat. How?
Flushing a toilet sends a cloud of toilet germs into the air. The germs move around and, over time settle onto bathroom surfaces. Sinks, door handles, loo roll – they're all coated. The toilet seat, though, is typically cleaned more regularly than the sink – by both cleaners and toilet users.
We're all worried about the seat. In fact, germs lay everywhere.
How the Sterillo combats toilet surface germs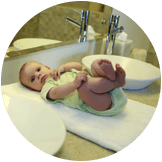 The Sterillo uses patented, cutting edge technology to remove germs from the air – before they make their way to bathroom surfaces.
When it's not drying hands, the Sterillo silently and continuously draws in bathroom air. Internally, it treats the air with the same UVC light that commonly santises hospitals and care homes.
The germicidal light renders germs unable to perform vital cellular functions, killing them off. Germs are destroyed in the background, which is why the MD of the British Toilet Association – an organisation campaigning for cleaner public toilets for all – is such a fan.

The most hygienic hand dryer available on the market today.
Raymond Martin
MD of the British Toilet Association and campaigner for better public toilets for all

We have also had feedback... of the heightened clean smell and sanitisation from them which contributes to the overall positive feedback I'd like to pass on.
Jean-Michel Sourdrille, General Manager, Hix Restaurants
As well as improving sanitation, the Sterillo eliminates unpleasant bathroom odours. And, in contrast to air fresheners, it actually removes odour-causing germs from the air. The result is an odour-free environment – and noticeably cleaner air.